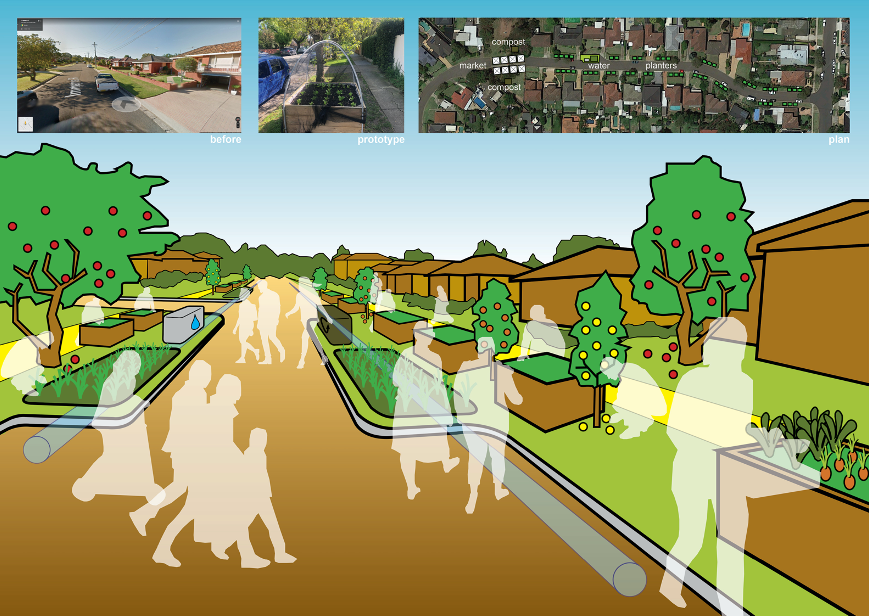 29 Sep

Public Space Ideas Competition

We recently entered the Committee for Sydney's Public Space Ideas Competition. At an ideal and vital time to be contemplating new forms, types and uses of public space, this open competition invited concise ideas across a range of categories.

Our idea is a simple one: using the vast, under-utilised and distinctly Australian urban resource that is the nature strip, to grow fresh food!

By establishing groupings of raised planter beds within streets or neighbourhoods with specialist support, we can establish a scale of production that facilitates community interaction and participation, social connection, health benefits, reduced food miles and food waste, financial savings and skills development. Ultimately, expanded food production on our suburban streets can supply homes and local businesses towards a sustainable business model.

This idea has been shaped by Simon McPherson's own small raised garden on his nature strip in Melbourne, established with Council encouragement, which is producing fresh vegetables, gaining local interest and facilitating lots of social interaction.